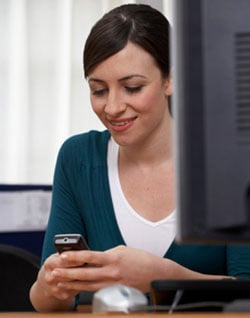 When you start seeing someone new, there's little you want to do other than spend as much time with them, talking to them, and talking about them as possible. When it comes to constant communication during the workday though, too many checkins can get obtrusive — not to mention annoy your co-workers and be very, very distracting from the tasks at hand. We've all fallen prey to over-sharing with our significant others at one point or another, but in an effort to save your co-workers' sanity (and not to mention, increase your workday productivity), you should establish a few ground rules when it comes to communicating with your guy or gal during work hours.


If you have unconfirmed plans, emails, and texts pertaining to your plans are allowed. Once you figure out what you're doing, it's time to shut it down. Or at least slow it down.
If you don't have plans, a hello email is OK, but no more than four or five exchanges in any given "conversation," otherwise it's too much time and focus wasted.
To hear a few more rules to work with, just read more